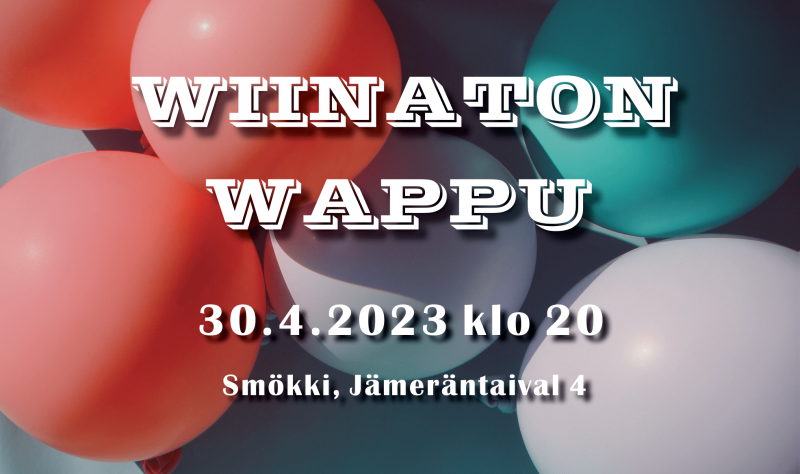 Otaniemen sydämessä, Smökissä, on luvassa jälleen wapun unohtumattomin tapahtuma, Wiinaton Wappu. Luvassa on wapun tunnelmaa, erilaisia ohjelmaspektaakkeleita, hauskaa seuraa sekä elävää musiikkia, kun lavalle saapuu Kauniaisista SRO Musalinja useilla yhtyeillään. Tapahtumassa on tietysti myös tarjolla wappuherkkuja, kuten munkkia ja simaa.
Wiinattomaan Wappuun ovat tervetulleita niin nykyiset, entiset kuin tulevatkin opiskelijat ja opiskelijanmieliset, joten suuntaa wappuaattona Otaniemeen ja ota kaverisikin mukaan! Tapahtuma alkaa 30.4. klo 20.00 ja jatkuu yli puolenyön Servin mökissä (Jämeräntaival 4, Espoo). Tilaisuus on ilmainen ja alkoholiton. Tapahtuma soveltuu siis myös lapsiperheille. Tervetuloa!
Ennen tapahtumaa on myös mahdollista osallistua Wappuvesperiin (eli rukoushetkeen) klo 19 Otaniemen kappelissa (Jämeräntaival 8, Espoo).
(Teekkarit huomio! Kuten asiaan kuuluu, keskiyöllä painetaan lakit päähän teekkarihymnin saattelemana.)
—————————————
Welcome to Wiinaton Wappu, a non-alcoholic wappu party, on the eve of the first of May at Smökki. There will be entertaining wappu activities, wappu atmosphere without forgetting the traditional wappu foods. Live music is performed by several bands from SRO Musalinja. Come celebrate teekkariwappu in good company! The event is free and organized by the Guild of the Cross.