Chapel evenings
Every Wednesday at 19:00
The main activity of the guild are the weekly chapel evenings. Often, the evening contains a teaching by a guest speaker. Sometimes, however, the event is lead by volunteers, and may revolve around playing board games or other laid-back activity.
Because of the bad air condition at the Otaniemi chapel, the chapel evenings are currently being held in other facilities around Otaniemi. You can check the exact location from the calendar by expanding the event descriptions.
Sauna evenings
The sauna evenings of 2023 autumn: 19.9 (freshman sauna).

Sauna evening is a perfect possibility to relax in the midst of work and studies. The programme of the evening consists of a dinner, hanging out (usually in the form of playing boardgames, etc.), sauna, and a devotional. Sauna evenings are usually organised in the Velskola retreat centre of the Espoo Lutheran congregations.
Spring and autumn camps
The spring and autumn camps are a perfect place to become better acquainted with other guild members. The programme of the camp is rather informal, and realised by the guild members themselves. The camp often has a guest speaker having a teaching, and also a Aalto pastor is present. Like sauna evenings, the camps are also organised in retreat centres.
The autumn camp of 2023 will be held on 20.–22.10.2023. Additional information will be published later.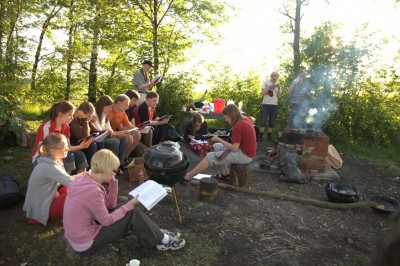 Lapland trip
Annually during March, the Guild of the Cross organises a trip to Lapland. Traditionally, the place of stay has been a rental cottage in Kittilä by the Aakenustunturi, not far from the Ylläs skiing centre. Additionally, a skiing track runs just by the cottage, and, of course, there is plenty of snow! Therefore, the journeyers have often spent their time cross-country and down hill skiing, snowboarding, treking in snowshoes or dashing in a sled, though the close atmosphere and communality have also been an important part of the trip experience. For many, the trip has also been an notable place for spiritual growth.
In 2023, the Lapland trip was held on 10.–18.3.2023.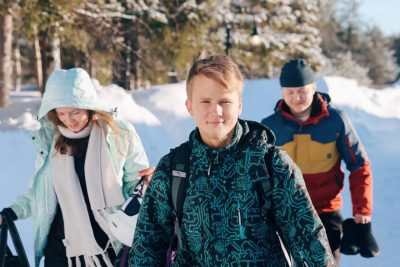 Bible-study groups
1–4 times a month
The Bible-study groups gather weekly to read the Bible, pray together and discuss questions related to the members' lives. More information can be found from the small group webpage.
Prayer meetings
Bimonthly on Mondays at 19:00 and weekly during the lunch time
In the prayer meetings we pray together for common and personal matters. Anyone is welcome to the gathering, and there is no need to sign up for it.
The prayer meetings are held on the first and third Monday of each month somewhere in Otaniemi, and weekly during the lunchtime. To receive more information, you can contact the spokesperson (tiedottaja@ristinkilta.fi), who can add you to the mailing list and the guild's Telegram group.
Bible quiz
Once a year
Raamattuvisaan valitaan vuosittain vaihtuvat kirjat, joista esitetään tietokilpailukysymyksiä. Visassa kilpaillaan 1–3 hengen joukkueissa ja toivotamme lämpimästi tervetulleiksi joukkueet myös muista yhteisöistä! Visassa menestyneitä on palkittu mm. kirjapalkinnoin.
Vuonna 2024 kilpailukirjoina ovat Sananlaskut, Valitusvirret ja Johanneksen evankeliumi. Raamatunkäännöksinä käytämme 33/38, 92 ja Raamattu Kansalle.
Edellisten kuuden vuoden kilpailukirjoina ovat olleet:
Hesekiel ja Apostolien teot (2023)
Ester, Daniel ja Markus (2022)
Sakarjan ja Saarnaajan kirja sekä Kirje roomalaisille (2021)
Wiinaton Wappu
Ristin kilta järjestää perinteisesti Wiinattoman Wapun vappuaattona Smökissä. Tapahtuma on suunnattu koko perheelle.
Vuonna 2021 Wiinaton Wappu toteutettiin etänä striimin välityksellä, mutta sittemmin sitä on päästy jälleen järjestämään paikan päällä.
Senioripyhä
Senioripyhä on messu joka järjestetään Otaniemen kappelilla vuosittain tammikuussa. Senioripyhän tarkoituksena on koota yhteen nykyisiä ja entisiä kiltalaisia. Jos haluat saada lisätietoa senioripyhästä, voit liittyä seniorit-sähköpostilistalle ottamalla yhteyttä tiedottajaan.
Vuoden 2024 senioripyhä pidetään tammikuun loppupuolella.
Muu toiminta
Leffailtoja, kisastudioita, urheilua yms.
Virallisen toiminnan lisäksi killassa tapahtuu paljon muutakin. Tietoa näistä saa killan meno-postilistalta, Telegram-ryhmistä ja irc-kanavilta (#rkilta ja !rkilta.pelit @ IRCNet).
Kappelikuoro
Otaniemen Kappelikuoro oli nuorten aikuisten sekakuoro, joka toimi Otaniemen kappelilla osana Espoon seurakuntien oppilaitostyötä. Se ei ollut varsinaisesti osa Ristin kiltaa, mutta sen toiminta sai alkunsa killan parissa. Kuoro päätti toimintansa 40-vuotisjuhlakonserttiin toukokuussa 2018.
Kuvat: Jaripekka Juhala (1.-3.), Mika Korhonen (4.)